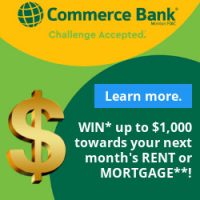 Wouldn't it be awesome if you could go rent or mortgage FREE next month? We think so, that's why we have teamed up with our friends at Commerce Bank to give YOU the chance to win* up to $1,000 towards YOUR rent or mortgage for next month!**
Enter below for your chance to win*, from Mix 93.3 and Commerce Bank. Challenge Accepted®
PLEASE CLICK HERE TO READ OVER THE RULES BEFORE ENTERING THIS CONTEST.
*NO PURCHASE OR ACCOUNT NECESSARY TO ENTER OR WIN AND WILL NOT IMPROVE YOUR CHANCES OF WINNING. Giveaway is open to legal residents of Kansas and Missouri in the "Station" listening area, live within a 60-mile radius of 1000 Main St. Kansas City, Missouri, and who are 18 years old or older at the time of entry. Additionally you may also enter by mailing in an entry form or a postcard with your name, address, age, email address, and, phone number to" Mortgage Lend a Hand Giveaway", Commerce Bank, 8000 Forsyth Blvd., CBIR-3, St. Louis, MO  63105. Entries must be received by June 7, 2019. Only one entry per envelope.  For a copy of the Official Rules, please mail a self-addressed, stamped envelope to:  Mortgage Lend a Hand Giveaway, Commerce Bank, 8000 Forsyth Blvd., CBIR-3, St. Louis, MO 63105 or visit commercebank.com/lendahandrules.
** Each confirmed winner will receive a check for one (1) month of mortgage or rent payment, up to a maximum of $1,000.00. The total amount of the prize will be determined based on the documentation provided by the potential winners to "Station" that will verify either a signed lease specifying the winner's name and current rental amount (for renters) or a mortgage statement from the lender specifying the monthly mortgage payment and proof of the last three (3) consecutive months of mortgage or rent payments made by the winner (copy of cancelled check, paid receipt, rent or mortgage statements).