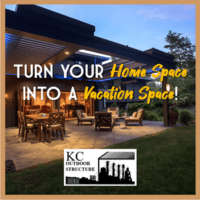 Summer vacations are going to look a little bit different this year due to COVID-19. Instead of flying to a tropical location and relaxing at a large resort, or taking that girls trip to New York for a Broadway show and shopping, many people will be vacationing at home.
That's why we have teamed up with KC Outdoor Structure  to turn someone's home space into the perfect vacation place.
Enter below for your chance to win!