Brookside Holiday Season Opener
Event Navigation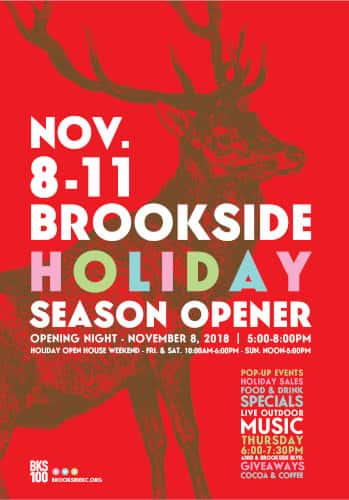 Kansas City's favorite neighborhood is celebrating the start of the holiday season with their annual Holiday Season Opener on November 8th from 5 p.m. to 8 p.m. in the Brookside area of 63rd Street and Wornall Road.
The Brookside Area Shopping District's Holiday Season Opener is a free, family-friendly event happening the weekend of November 8th through 11th. Businesses will offer open houses, outdoor music, pop up events, and giveaways, Thursday, November 8th, from 5 p.m. to 8 p.m. Participating retailers will be open extended hours November 8th through 11th: Thursday evening until 8 p.m., Friday and Saturday 10 a.m. to 6 p.m., and Sunday, 12 p.m. to 5 p.m.
The Thursday evening Holiday Season Opener event is held in the park, located at the corner of Brookside Boulevard and 63rd Street, from 6 p.m. to 7:30 p.m. November 9. Teresa from Mix 93, host of the weekday morning radio show, will be emceeing the activities in the park. Entertainment includes, The Holiday Trombones, Providence School of the Arts, University Academy, Border Star Elementary School Choir, St. Elizabeth's Choir and the St Peter's School Choir
Visitors can pick up hot cocoa and treats provided by The Roasterie, Michael Forbes Grille and Bar, and Cosentino's Price Chopper, then stroll through the historic district, take in the magical holiday window displays, and get an early start on holiday shopping. Families and shoppers can enjoy festivities in the park from carols to children's events to photo spots and giveaways.
Holiday shoppers will find great deals and the best selection of gifts and seasonal décor at Brookside businesses during one of the biggest holiday shopping events of the season. Area restaurants will have food and drink specials available Thursday evening only.
Related Events