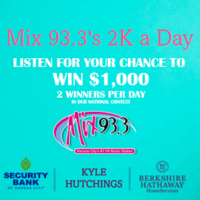 Giving you $1K a day?!? Mix 93.3 has been there and done that chump change thing.
So this time – we're upping the ante…….. To $2K a Day!!!! 2- $1,000 WINNERS each day!
Winning is easy – just listen each weekday at 7:30, 10:30 and 4:30 for a brand new keyword- Enter it BELOW – and wait for a call back to win.
Powered by: Kyle Hutchings at Berkshire Hathaway  and Security Bank of Kansas City