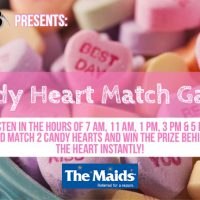 For decades, they've filled our spirit with phrase of love and given our taste buds the flavor of chalk. But this year, Mix 93.3 mourns the loss of candy hearts, a Valentine's Day staple… so we thought we'd make a Candy Heart Match Game!
Congrats to all our winners! Kansas City area winners opened 30 doors and won 15 prizes, including a Capitol records flyaway, cash, a brand new 50 inch TV,  an Amazon Alexa, tickets to see Cardi B, Shawn Mendes, Backstreet Boys and SO MUCH MORE!
Powered by The Maids – Referred for a reason!