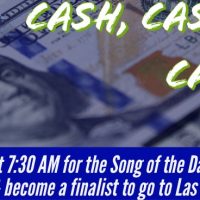 Wanna win $100 a day plus a trip to Vegas, but don't wanna compete with literally thousands of radio stations across the country?
Then you're gonna love Mix 93.3's Cash, Cash & Cash with $500 a day AND a trip to Vegas to hang out with Cash Cash! The best part? ONLY KANSAS CITY AREA WINNERS!
Winning is easy, listen to Rocket and Teresa each morning at 7:30 AM for the song of the day, then keep it on Mix from 7 AM to 7 PM for 5 daily chances to win $100 in cash instantly! Each of our $100 winners also becomes an instant finalist to hang out in the DJ booth with CASH CASH IN VEGAS!