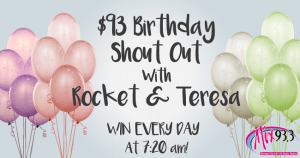 Play our "$93 Birthday Game Shout Out with Rocket & Teresa" every morning and you could win $93!
Every weekday at 7:30am, the Rocket and Teresa Show will announce a month, and if that is the month in which you were born, you'll want to call in and be caller number 9 to participate in the game!
Once selected, the Rocket and Teresa show will announce that day's special birth date!
If the birth date matches yours exactly…you win $93! There are also prizes even if it doesn't match!
Good luck!