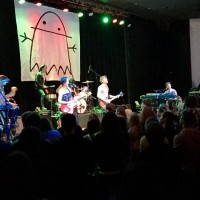 (Jukebox the Ghost, Secret Someones, Little Daylight performing "Walk Like Egyptian"; photo by Emily Katz)
Last night was filled with hours of infectious pop tunes from Secret Someones, Little Daylight, and a long time favorite of mine/veteran to this blog, Jukebox the Ghost. To be honest, I almost didn't write about the show because I've written about them so many times; however, Rocket reassured me that I can never write too much about good music. He's a fan, I'm a (super) fan, and I hope by now you are as well. If not, maybe today's the day you'll read me praise their insanely catchy tunes, give them a listen, and join me in my Jukebox the Ghost Super-Fandom.
Secret Someones (http://www.facebook.com/SecretSomeones) opened the show at the Granada Theater in Lawrence. They reminded me of a nineties alternative/pop girl (plus one guy) group. Their sound isn't familiar to this decade's female vocals. They all play instruments and their voices harmonize flawlessly. I purchased an EP after their set and listened to it today, and I thought they sounded better live than they do recorded. That is pretty uncommon, but I highly recommend giving their recorded music a listen nonetheless. Their debut EP I Won't Follow is available on iTunes. Check out the video for their song "I Won't Follow" here: https://www.youtube.com/watch?v=6eh2LFiGwAU.
Indie/pop trio Little Daylight took the stage next. I'll have to admit, they had to grow on me. About halfway through their set, they won me over as their songs grew catchier and catchier. This is another female fronted band, whose sweet yet powerful voice hit every note perfectly. Check them out at http://www.facebook.com/littledaylightsounds.
Then, pop music's best kept secret Jukebox the Ghost (http://www.facebook.com/JukeboxTheGhost) wooed the audience with an hour and a half of pure pop bliss. The band played several songs off of their newly released self-titled album, including some of my personal favorites "Postcard,""Made for Ending," and "The Great Unknown." Older hits such as "Hold It In" and "Somebody" were included in the set list as well. During another older tune, "Schizophrenia," the band set a stuffed toy dog that travels with them on a crowdsurfing adventure. Had I not been too busy dancing, singing, and laughing at the sight of a stuffed animal being thrown around the room, I would have captured the hilarious event on video. You'll just have to see it for yourself next time they're in town! Also, if you're ever in the crowd at one of their shows, be sure to yell at Ben to do the egg thing. Don't ask, just trust me. They ended the night with a collaborative performance of "Walk Like Egyptian" with Secret Someones and Little Daylight. You can listen to a recorded version of the song which was done by Jukebox the Ghost and Secret Someones here: https://www.youtube.com/watch?v=_ypUd-iz0Lw, and watch the video for JTG's "The Great Unknown" here: https://www.youtube.com/watch?v=mr9zSYAbWSw.
I'll be checking in from SXSW in Austin next month where Jukebox the Ghost will be performing, so this probably won't be the last time you hear about them from me. Now that I've hopefully convinced you to check out this awesome band if you haven't already… what do you think?! Leave a comment and let me know!