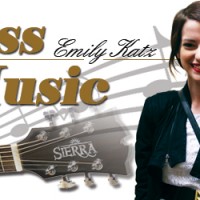 Yesterday while browsing social media, I saw a lot of mixed views regarding the Grammys. Some people couldn't wait to watch the awards, while others were couldn't be more anti-Grammys. Prior to watching last night's show, I was right in the middle. The Grammys aren't sucking the soul out of the music industry, nor are they even close to fairly representing musical talent. That said, I will ALWAYS watch the Grammys. Attending the show is on my bucket list. I love and appreciate all kinds of music. If there are any staunch Grammy haters reading this, please just hear me out.
Last night, the Grammys took on a more serious vibe than past shows. While music certainly was celebrated, the important issue of sexual and domestic violence was brought to the surface with awareness speeches from President Obama and domestic abuse survivor Brooke Axtell. For an awards show that has been shamed for lacking any seriousness, this was an important step in differentiating from other music awards shows. There is still much work to be done for the awards show to change its image from being just another awards show based on popularity.
Seeing collaborations between legendary and up-and-coming artists (Hozier and Annie Lennox, Tony Bennet and Lady Gaga, Usher and Stevie Wonder, Rihanna, Kanye and Paul McCartney, and Sam Smith and Mary J. Blige) amped the credibility of the awards show by combining the talents of artists from across the time and genre spectrum.
Furthermore, Beck's "Morning Phase" winning Album of the Year and Best Rock Album, two MAJOR categories (not undermining the others, but the televised categories tend to get the most attention) was another slap in the face, more or less, to Grammy naysayers. I am not defending the fairness or legitimacy of ALL nominees, but this goes to show it's not all about the Top 40 over-hyped pop stars. Baby steps.
Moving on from trying to reason with Grammy haters…
Two words: SAM SMITH. What a night for the British pop star! I'm a huge fan of his, and to see his genuine appreciation for his big wins was heart-warming. His rich ballad-producing vocals are truly a breath of fresh air to pop music (especially Top 40!). There is no one on the popular music scene like him, and it's always great to see uniqueness like his celebrated in a world where a lot of popular music sounds disturbingly similar.
My favorite performance of the night was Sia performing her hit "Chandeler" (with extremely surprising guest Kristen Wig!). Her voice is insane recorded AND live. I had no idea what was going on with the performance, yet I couldn't stop watching and at least trying to figure it all out. The first time I saw her perform with the dancers, I admit I thought she was trying too hard to be super artsy and mysterious. Now I've learned to appreciate it for what it is. She's unique, and so incredibly talented.
All of that being said, I'm about to contradict myself. I was bored out of my mind during the majority of the show. Perhaps I'm used to being kept on my feet awaiting "surprise" publicity stunts during other popular awards shows (i.e. the VMAs, or even past Grammy shows). To me, however, the tranquility of this year's show proved that the Grammys are taking responsibility for and beginning to redeem themselves to be taken as a SERIOUS celebration of music. They just need to find the right balance. Like I said earlier… BABY STEPS.
Until next year…