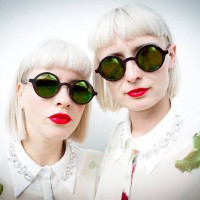 A vacation for Miss Music obviously wouldn't be complete without a concert. In fact, the driving factor of taking a trip to New York City was a talent show fundraiser produced by the Ally Coalition, an organization that advocates for equality among the LGBTQ community. The Ally Coalition partnered with New Alternatives, an organization that helps LGBTQ homeless youth in New York. All proceeds from the show went to New Alternatives. You can learn more about these wonderful organizations at http://www.theallycoalition.org and http://www.newalternativesnyc.org.
The talent show included a variety of musical, comedic, and poetic acts, as seen in the picture above. The talent show took place in a theater with a capacity of no more than a couple hundred people, and all sets were acoustic. Each act performed 2-3 songs or a 10 minute skit. As you can probably imagine, it was very much a unique and intimate experience.

(Photo from:
http://www.facebook.com/ilovelucius
)
Lucius, a Los Angeles based alternative indie band, was not on the bill, but was a welcomed surprise. Lucius consists of two female vocalists who dress identically and perform facing each other while sharing a microphone. They harmonized flawlessly and noticeably fed off of one another's energy. That, along with their attire (head to toe in red and matching hair styled in short buns) had the audience focused and intrigued throughout their brief set.

Even though I enjoyed literally every single act at the show, Lake Street Dive was easily one of my favorites. I had never heard of them prior to the show, but I was blown away. They are a blues/pop band from Brooklyn, and vocalist Rachael Price has an absolutely incredible,
ICONIC
voice. There is no one else out there (that I've heard, at least) who has her rich, unique tone. She has the potential to be the next Mariah Carey or Christina Aguilera in regards to having a notable voice. I have yet to hear a Lake Street Dive song I dislike, but so far my favorite is "You Go Down Smooth." Listen to it here:
https://www.youtube.com/watch?v=mNFRRfVBWjg
. I shared this song with Rocket, and he immediately went and bought all of their music. Listen for yourself and I guarantee you will be hooked!
Other musical acts that performed include Guster, and three of my all time favorite musicians: Andrew McMahon (In the Wilderness), Jack Antonoff (Bleachers/fun.), and Ingrid Michaelson, who have all been featured on my blog several times. Photography of any kind was prohibited, hence the lack of live pictures/videos.
**FUN FACT! The Ally Coalition was founded by Bleachers/Fun.'s Jack Antonoff along with his sister, designer Rachel Antonoff.