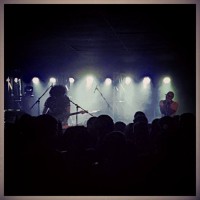 (Ghost Beach: Photo by Emily Katz)
Thursday night, I ventured to the Bottleneck in Lawrence to check out a long time favorite band of mine, Ghost Beach. I first heard this band back in 2008 when they performed under the name TV/TV and played anthemic pop rock songs. A few years ago, they slightly alterted their lineup and created the current pop/electronic group Ghost Beach. They played to a sold out crowd and had them dancing non-stop with their high energy, insanely catchy hooks, and vibrant lighting. Check out the video for their hit "Miracle," below or by clicking here: http://www.youtube.com/watch?v=73xPEEF92JY
Their music, which includes their debut album Blonde, is available on iTunes and Spotify.
(Tove Lo: Photos by Emily Katz)

The next morning, I caught an intimate performance with Swedish popstar Tove Lo in Mix's Studio B! A few months ago while at the station, Ponch had me listen to "Habits (Stay High)," and I then proceeded to listen to it on repeat for several days. Needless to say, I was stoked to hear it on the radio shortly after, and I must say… she sounds better live than recorded! When she first arrived in the studio, she chatted with the audience about her background, which involved attending a high school for musicians and performing with musicians in Stockholm. After chatting with the crowd, she performed her next single "Talking Body," and of course her hit "Habits (Stay High)." The performance was short and sweet, but Tove Lo and her raw, powerful voice definitely left a lasting impression. The girl can SING! She was also super sweet and stuck around afterward to talk to and take pictures with fans. I can't wait to pick up a copy of her debut album Queen of the Clouds, which comes out September 30th!