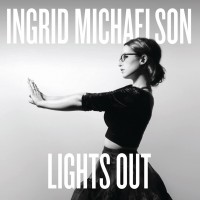 There are countless songs about the good, bad, and ugly aspects of relationships. After all, the pursuit of love is a commonality of life. Everyone can relate to songs about romance in some way. Singer/songwriter Ingrid Michaelson has proven time and again her ability to connect emotion with music, and this time is no different in regards to her newest album, Lights Out. Each track on the album tells a story about relationships in an unexpecting, compelling, and vulnerable way that is unheard of in most love songs.
Not only does she do an exceptional job of storytelling through her lyrics, but she takes several instrumental risks on this album. Strings, heavy bass and guitar, accordians, trumpets, pianos, and synthesizers are among the wide variety of instruments incorporated. There are hints of jazz, pop, country, and rock in this album– an eclectic but refreshing combination.
The opening track, "Home," signifies the feelings of comfort, trust, and safety in a relationship. This is a noteworthy opening track, as the rest of the album explores the themes of establishing that comfort, second guessing it, destroying it, and longing for it once it's gone.
Following "Home" is the hit single, "Girls Chase Boys." The song describes the frustrating and annoying cycle of girls chasing boys who chase girls who chase boys who chase… well… you get the idea. Throughout the cycle, though, despite the hurt and frustration, life goes on, as Michaelson suggests with the lyrics "All the broken hearts in the world still beat, let's not make it harder than it has to be," and "I've got two hands, one beating heart, and I'll be alright."
Other tracks like "You Got Me (ft. Storyman)" and "Wonderful Unknown (ft. Greg Laswell)" describe the pure bliss, excitement, and uncertainty that comes with a new relationship. On the opposite end of the spectrum, tracks like "Time Machine" and "Over You (ft. A Great Big World)" tell the story of love's heartaches and regrets. Balancing the good and the bad aspects of love are triumphant, powerful tracks like "Afterlife" and "One Night Town (ft. Mat Kearney)."
As mentioned above, the album features several male vocalists on different tracks, which adds to the overall eclecticness of the album. Familiar guest vocalists include Mat Kearney ("Nothing Left to Lose," 2006) on the track "One Night Town," and A Great Big World ("Say Something" ft. Christina Aguilera, 2013) on the track "Over You." Other artists include Storyman, Trent Dabbs, and Greg Laswell.
You can see Ingrid Michaelson LIVE at the Crossroads August 8th. Opening for her is Kansas City's own Gracie Schram, as heard on the Rocket and Teresa show! Tickets on sale at http://www.Mix93.com.
Lights Out is now available on iTunes.
Twitter: @IngridMusic
Twitter: @GracieSchram