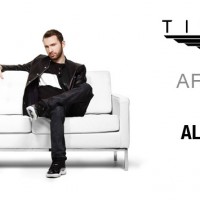 (Photo from
http://www.facebook.com/timeflies
)
Last Friday, I joined some lucky Mix listerners in Studio B for a special acoustic performance from Red, White, & Boom artist Timeflies.
Vocalist Cal and producer Rez make up the unique pop/rap/electro duo from New York City. They charmed the audience with their witty personalities and impressive knowledge of Kansas City. Their incorporation of a "Space Jam" cover and a freestyle rap about Kansas City into their song "Swoon" is what ultimately won me over. Before the performance, the audience wrote down Kansas City related topics (i.e. Chiefs,Tech N9ne, the Plaza, etc.) and put them in a hat. During the freestyle portion of "Swoon," Cal randomly drew topics from the hat and turned them into lyrics to the rap.
Timeflies in Mix 93.3's Studio B (Photo credit: Emily Katz)
After hearing them acoustically, I definitely prefer it to their recorded/electronic sound. They just released their new album After Hours, which features their single "All the Way." The album is available on iTunes. Be sure to check them out at Red, White, & Boom August 9th at Starlight Theater. Tickets and more information available at https://www.mix93.com.
That night, I went to Starlight Theater to see comedian Chelsea Handler (host of the show "Chelsea Lately"). Although she's not a musical artist (to my knowledge at least), I had to include her in this post. She performed stand-up in support of her new book, Uganda Be Kidding Me, and she had me crying from laughing so hard. When she took the stage, she began by talking about how much she loves Kansas City, and that she received a jersey from the Royals… as requested by the Mix 93.3 crew! If you enjoy blunt, sarcastic, raunchy humor, check out Chelsea Handler's material. Not recommended for younger audiences.
(Photo from
http://www.facebook.com/chelseahandler
)