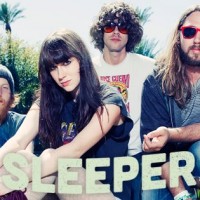 The first time I heard SLEEPER/AGENT, I was an instant fan. Last night, I saw them perform an intimate set at the Riot Room, and they did not disappoint.
The six piece indie-pop band from Kentucky has both a male and female vocalist. Not only do their voices complement one another perfectly, but those two have an unreal chemistry between them. Who knows? Maybe they're in a romantic relationship outside of the band, and that chemistry translates on stage, but they certainly fed off of each other's energy moreso than the rest of the band.
The show was for ages 21+, but the audience was extremely diverse in age. People ranged in age from early twenties to late fifties. One of my favorite things about going to shows is seeing music bring people of all ages and all walks of life together.
Contributing to the diverse age range of the audience is the fact that each SLEEPER/AGENT song sounds completely different. They range from soft, mellow pop ballads to head-banging rock anthems. Needless to say, I was never bored during their set.
From the first time I heard them, to even now as I write this, I've tried to compare them to other bands, but they have a truly unique sound. Initially, I was frustrated that I couldn't think of any similar artists, but then I realized that's a good thing! It's just so uncommon nowadays.
Listen for yourself! Check out their video for their new single 'Waves':https://www.youtube.com/watch?v=Hf9rPrpP3GU
Both of their albums, About Last Night (2014) and
Celebrasion
(2011), are available on iTunes.
Get connected with SLEEPER/AGENT!