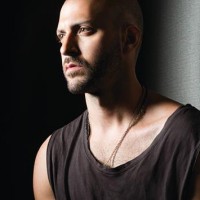 (Photo credit: http://www.facebook.com/ryanstar)
About five years ago, I saw American Idol winner and Kansas City native David Cook perform at Ameristar Casino. Opening for him was NYC rocker Ryan Star. It was love at first listen. I've since seen him in concert a couple times, and to this day, he is one of the most passionate artists I've heard and seen.
Star has released three full length albums: Songs from the Eye of an Elephant (2005), 11:59 (2010) MY FAVORITE!, A N G E L S + A N I M A L S (2014), and an EP: Animals (2013).
What has continued to draw me to Star's music over the years is the fact that in every single song of his, this powerful, authentic passion exudes from his voice. Each time I've seen him perform live, that passion is still there. Very rarely have I heard an artist continually connect so deeply with his/her music.
Lastly, his ability to connect with fans at shows while creating an emotional and intense atmosphere make for a unique concert experience.
One thing I don't like about him? The fact that he is a highly underrated artist. If you listen to him and agree with me, let's change that. All of his music is available to listen to on Spotify and to purchase on iTunes. Share his music with your friends and family. Show everyone what they've been missing out on!
Get connected with Ryan Star: