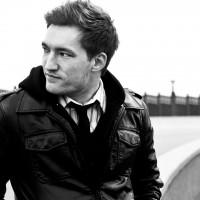 (photo credit:
http://www.facebook.com/stevencoopermusic
,
http://www.aubreyerinphoto.com
)
In a world where you can't turn on the news without hearing of some tragedy every single day, Kansas City's own Steven Cooper promotes positivity through his music.
I was first introduced to Cooper's work at a video shoot for his song "Stereotype." I knew instantly that this guy was going to make an impact on the musical world with his inspiring lyrics that tell stories about overcoming struggles.
Cooper has worked with popular Kansas City natives David Cook and Tech N9ne, as well as the internationally known artist Akon. A producer who had worked on one of Akon's albums suggested the idea of combining the talents of Cooper and Akon, resulting in the song "Bigger," which you can listen to below or by clicking this link: http://www.youtube.com/watch?v=plpS3a8cqUs&list=PL6B53388457BEE96F&index=3
Cooper has released two albums, Life and Love and My Time, as well as an EP titled Brightside. Today, he released TWO singles, "Stone Cold Heart" and "Ego" which are available on iTunes, Spotify, or wherever digital music is sold. He has a new album which is set to release November 19th.
Hear more of Steven Cooper's music and connect with him here:
Like what you hear?! Know of other local artists you think I should check out?! Let me know! Leave a comment here or e-mail me at missmusic@mix93.com!