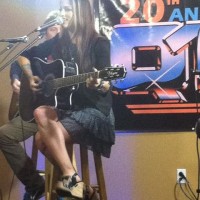 Yesterday was my favorite kind of day: one filled with new, live music.
First, I had the chance to hear new music from The Voice season 3 winner, Cassadee Pope, in an intimate setting of no more than 30 people. I'll admit, I wasn't sure I would enjoy her solo music at first, because I was so used to hearing her sing strictly pop/rock in her former band Hey Monday.
Cassadee has turned to writing and performing country music now, and I was pleasantly surprised by how well she pulled it off. This girl can sing ANYTHING.
She debuted a few songs, including her first single, "Wasting All These Tears," which she will be performing on The Voice June 4th.



Last night, I headed over to the Crossroads to check out the sold out Of Monsters and Men show.
The indie rock band from Iceland performed just over an hour of passionate, thoughtful, and catchy tunes to a well-receptive crowd. Their recorded sound translated live FLAWLESSLY.
I wasn't a huge fan of this band at first, but seeing them perform live definitely changed that. They had a simple, yet vibrant light show to back their sound, and used confetti cannons (my favorite!) to keep the crowd intrigued (as if their music wasn't enough!). Not to mention, they also had an accordian player, which is not something you see at a show of a popular live act very often!


Overall, I enjoyed a night of music from Of Monsters and Men, outside in the perfect 70 degree weather at the Crossroads, and I look forward to seeing them again next time they're in Kansas City!
Check out their debut album, "My Head Is An Animal," available in stores and on iTunes.
Are you a fan of The Voice's Cassadee Pope or were you at the Of Monsters and Men show last night? Let me know what you think! E-mail me at missmusic@mix93.com!