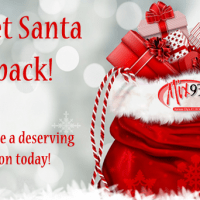 Mix 93.3 wants to give one deserving person some holiday cheer this year with the help of our Secret Santa. You can submit your nomination of who you think could benefit from having an extra boost this holiday and tell us why they deserve our Secret Santa to stop by.  One person will receive:
$300 Gift Card to Cargo Largo
$100 Gift Certificate to The Spa at Briarcliff
$50 Gift Certificate to Holiday Ham Co & Specialty Meats
$500 Gift Card from Security Bank of Kansas City
Remember, it can be even more special to nominate someone without their knowledge, so feel free to keep this secret just between us! (Unless they win of course!)
Nominate a deserving person today!