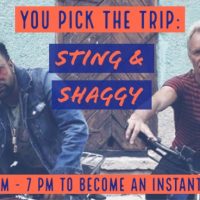 Mix 93.3 wants to get YOU the heck out of town… with Sting and Shaggy!
It's the triumphant return of "Pick Your Trip" with Sting and Shaggy HERE in Kansas City at Boo Bash on October 4th then ANY city of your choice across the USA!
Winning is easy! Listen weekdays from 7 AM – 7 PM for the cue to call and become an instant finalist!