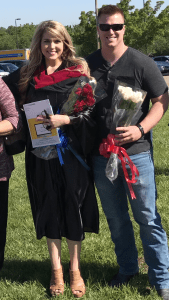 Tara completed her Master of Science in Journalism back in December and finally was hooded this past weekend at KU.  Congratulations, Tara! We are very proud of you…but still will not refer to you as "Master".
Tomorrow on The Rocket and Teresa Show…
Tabloid Trash every hour
Chance to win a trip to Hollywood to see the world premiere of Wonder Woman with our First Caller of the Day at 6:20 and our Last Caller of the Day at 9:40
Tara and Britt will have your daily horoscopes at 6:40
Things We Can't Make Up at 6:50
You could win $10,000 with the Rocket and Teresa Birthday Game at 7:30
Trending Topics at 7:40 and 8:40
and we will give you a chance to say "Thank You" to the people in your life that make a difference…big or small…at 7:50
Have a wonderful day! You deserve it. God bless.