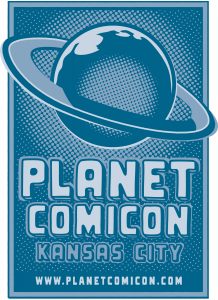 Hello again Kansas City, Midwest, and beyond! It's been a calm few months with working on costumes, charity events, and a few visits to Children's Mercy Hospital. However, the last couple of weeks have been a whirlwind of activity in preparation of this weekend and this year's biggest local event, Planet Comicon! What is Planet Comicon, or PCC as most of us refer to it as? Planet Comicon Kansas City is Kansas City's largest and longest-running comic book convention and pop culture expo with celebrity guests from film and television, creators from the worlds of comic books, animation, novels, video games, and other media. Planet Comicon's Artists Alley will include more than 250 creators with up to 75 featured creators. Planet Comicon Kansas City will include three days of panels, performances, and celebrity Q&A sessions in multiple conference rooms and performance spaces. The most popular sessions will be held in the Grand Ballroom of the Kansas City Convention Center with seating for approximately 3,000 fans.
So, now that you know what PCC is, as if it really needed explaining, all that info isn't going to do though because I'm sure you want to know WHO will be there, right? Well, this year guests include: Stephen Amell from Arrow, John Barrowman from Arrow and Doctor Who, Ron Perlman from Hellboy and Pacific Rim, Wil Wheaton from Star Trek: The Next Generation and Big Bang Theory, Spencer Wilding from Rogue One and Guardians of the Galaxy, Jim Beaver from Supernatural and Breaking Bad, Emma Caulfield from Supergirl and Buffy, David Dastmalchian from Ant-Man and The Dark Knight, Felicia Day from Dr. Horrible and The Guild, Shannon Elizabeth from American Pie and Scary Movie, Ric Flair and Jerry Lawler of World Wrestling Champion fame, Maggie Geha from Gotham and Ted 2, Summer Glau from Serenity and Arrow, Jason Isaacs from Harry Potter and Peter Pan, Tom Kane who has voiced numerous characters from Star Wars, plus many more who are available for autographs and pictures within the convention.
There will also be numerous creator guests such as my friends Buzz and Darryl Woods (tell them Vector sent you) and many others such as Timothy Zahn of Star Wars and Jai Nitz of Suicide Squad who will be available for autographs, some discussions, and many who will be available to do custom works for you at the con.
Other guests include many of cosplay fame with featured cosplayers such as my friends Abby Darkstar and Zen Dragon, IBOT, Stephen K Smith, and Calen Hoffman (tell any of them Vector sent you too.)
Along with these nationally known cosplayers is an overall group that I'm proud to be part of: the local Star Wars groups. The 501st, Rebel Legion, The Dark Empire, Mandalorian Mercs, and R2 Builders will once again have the Star Wars Costumers display in the Cosplay Showcase area. Our members will be available for pictures and interaction, Blast A Trooper (where young and old can shoot Nerf guns at members for a donation to charity,) Dantooine Jedi Academy where younglings can learn from a Jedi Master the ways of the Force and even perhaps be challenged by a Dark Lord of the Sith, photo ops with set pieces such as: the Trash Compactor from the Death Star, a Hoth scene (provided by Cal Pierce with Far-Away-Creations,) the Emperor's Throne, John Robinson's personal Jabba the Hutt, plus Hallmark's Green Screen where our members will be available for photos, and information tables where you can learn more about our organizations, how to join or to make a donation to our chosen charities, and much more. All our members are charity driven, and as such, we cannot accept any money for our work or time. We provide all our own costumes at our own expense, and donate our time to numerous charities and appearances such as visits to Children's Mercy Hospitals and other organizations throughout the year.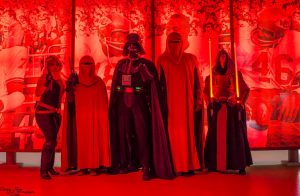 There will also be the PEZ. What is PEZ? New for 2017 is the Planet Entertainment Zone! The PEZ will combine creative, high energy activities, interactive displays and demos along with a cosplay oriented maker's space. The PEZ is where the local Star Trek and GI Joe costumers will be located plus where many local cosplayers such as my friends Clay Hielscher, Jim Bartlett, Ron Panda Coleman, Oh My Sophii, and more will be located. There will be a full schedule of entertainment to compliment Planet Comicon Kansas City's extensive programming including the PEZ stage where a full schedule of demonstrations by crafters and scientists, as well as Mesner Puppet Theatre, and performances by magicians featuring Tom Burgoon who is a regular on the CW's Masters of Illusion magic show, photo ops, and more.
Here's what's happening in the PEZ this year!
http://planetcomicon.com/planet-entertainment-zone/
On top of all of this there will be vendors, costume contests, panels, a party on Barney Allis Plaza on Friday night, and much more! Come out and join us this weekend, Friday-Sunday.
See you at the con…Comicon Ron