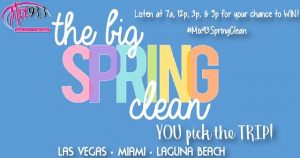 Your first chance to play "Mix 93.3's The Big Spring Clean You Pick The Trip" with Rocket and Teresa at 7:20
Be caller #9. Pick one of 3 doors to win a prize. It could be concert tickets…it could be an old coffee mug we found in the prize closet. If you play then you are an instant finalist to "Pick The Trip". You can pick between Las Vegas, Miami or Laguna Beach. You can also just pick $933!
and it is Whiney Wednesday! Those trivial problems that you usually feel guilty complaining about…this is your chance to let it all out with no judgement!