August 12th, 2016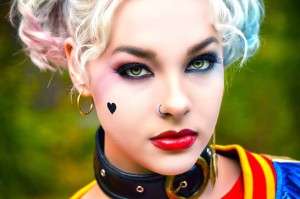 Hello again everyone! Yes, I've slacked a bit on posting about three great things that have happened or are getting ready to happen, but one of those great things is the reason. So, what am I talking about? Well, if you've been living under a rock, you might not know, but otherwise you should have been hearing about Suicide Squad for the last few weeks and this little thing called Kansas City Comic Con (KCCC) where I am getting married TOMORROW!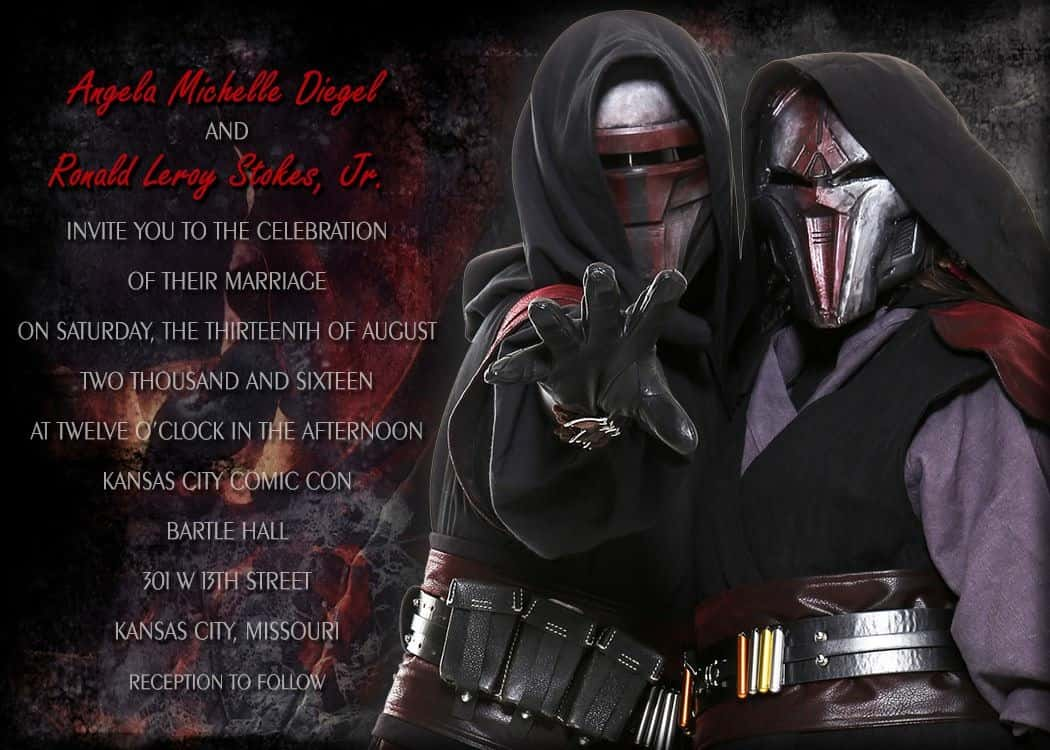 Oh yes, I am getting married at KCCC to my wonderful fiancee who puts up with all of these crazy things I do, Angela Diegel. Angela and I originally met about 20 years ago and I fell in love with her then, but I never had the nerve to ask her out. Flash forward 18 years later after live moved both of us around the country and we both ended up back here in the KC area. Because of cosplay, we had mutual friends on FB and she went to a con that I was at, TOPCON, and we went on a date the same night and never looked back. A year later, I surprised her with a proposal in front of a convention room of witnesses at KCCC, and now a year later I will marry her in front of another convention room of witnesses at KCCC. The theme is cosplay in general, but of course we will be heavy on the Star Wars theme and Ponch will be officiating the ceremony. Plans are still being made, but come out and join us, in or out of costume, as it is sure to be an amusing, memorable, and mushy event as I am finally getting married to the one person who thinks she can stand me forever…boy is she in for it. Truly though, we both love what we do with cosplay, art, and charity and we can't wait to say our vows and share the day with everyone.
---
August 4th, 2016

Hello Midwest comicon lovers and beyond. I know, it's been a while since I updated, but life happened and my father passed away. I'm still going through the ups and downs of emotions, but I'm trying to find my way back to some normalcy in my life. So…here goes.
It's been a busy few months in the cosplay and comicon world. We had Planet Comicon in May highlighted with the one and only Stan Lee as the featured guest. For those of you who were able to make it out, you saw the biggest PCC yet and next year will be even bigger! The crowds were awesome, the vendors numerous and amazing, and the guests were signing their arms off with autographs and hamming it up for photos with fans. I was out with the local Star Wars cosplay community taking photos with everyone who found me, dancing around the con at times as Vector of Umbrella Corp, and also meeting the stars like Stan Lee for a photo op. This year we had a massive Star Wars area that shared room with other cosplayers and we had several activities available for attendees. One of them was Blast-A-Trooper where attendees could pay for a chance to shoot at Storm Troopers and other Star Wars icons with Nerf guns and it was a big success again this year. New to PCC this year was Dantooine Jedi Academy put together by Kevin Austin, Kory Burch and supported by the local Star Wars costuming groups. The Dantooine Jedi Academy is led by a Jedi knight who teaches the ways of the Force and the Jedi Order to prospective younglings at cons and events utilizing a set, sounds, lightsabers, fellow Jedis and a villain from the Dark Side who the younglings must vanquish in the end. The Dantooine Jedi Academy is free to event attendees and has been a wild success.
Speaking of success, I heard that on Saturday of the con weekend, the KCFD actually shut down the inflow of people to the convention as they were at max capacity for Kansas City Convention Center and that this either has never happened before or has very rarely happened regardless of what convention was being held…to think that next year will be even bigger and utilize even more of the available convention center rooms and main hall is awesome!

After PCC, we attended Smallville Comicon in Hutchinson, KS. Smallville is a smaller con and is held at the Kansas State Fair Grounds in Hutchinson. For the local cosplayers, it's a more laid back event where we often end up having time to hang out together, but still have a ton of fun with the attendees and celebrity guests. This was my first year being able to attend Smallville and we had an absolute blast. As always, we had a blast wandering the con and taking pictures with attendees, but I also had the joy of being able to participate in the Dantooine Jedi Academy as one of the evil Sith the children were able to fight and vanquish with my Revanite, Lord Vector. Smallville is a long drive through KS to attend, but the trip was definitely worth it and we are looking forward to attending next year. Also, if you're ever at an event in Hutchinson, Grandma J's Patio Cafe at the Fairgrounds is AMAZING! We loved it so much that we ate nearly every meal there and made their Facebook page too.