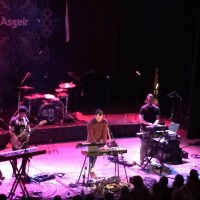 It seems appropriate that I start off this post with the disclaimer that prior to last night, the only Hozier song I knew was "Take Me to Church." When Mix asked me if I wanted to cover the show, I figured I'd see what the hype was all about. I went into the show with zero expectations, and ended up witnessing an incredible performance.

(
Á

sgeir
Photo by: Emily Katz)
Twenty year old Icelandic singer Ásgeir (pronounced like to Oscar) opened the show with a short but sweet set. The soulful electronica artist filled the room with his powerful voice, but in between songs he had minimal interaction with the audience and spoke very quietly. It always blows my mind when singers have powerhouse voices with performances to match, yet have seemingly reserved and quiet dispositions otherwise. The first few songs he snag were in Icelandic, which sounded cool despite the fact that I had no idea what he was really singing about. Ásgeir and his backing band of two alternated instruments throughout the set, playing different kinds of guitars, a keyboard, and a synthesizer. The only part of his performance I didn't like was the fact that his voice is so soothing and his songs have generally slower rhythms, so combined with sitting in comfortable seats on the balcony, I almost fell asleep! I purchased his album In The Silence after the show, and I love it! It's also available on iTunes, and you can learn more about him at http://www.facebook.com/AsgeirMusic.

(Photo by: Emily Katz)
As I stated at the beginning of this post, the only
Hozier
song I knew prior to the show was "Take Me to Church." Although I really love that song, I was pleasantly surprised to hear that most of the soulful Irish indie rocker's songs don't have such a dark, heavy-ish rock sound. Two of my favorite songs that he performed last night are "Jackie and Wilson" and "Someone New," because they have undeniably catchy and flowing pop hooks. As you all know by now, I am a sucker for ridiculously catchy pop songs.

(Hozier Photo by: Emily Katz)
The show was sold out, and Liberty Hall is a very small theater, so the atmosphere was very intimate and the performance seemed more personal. There was a very detailed and energizing lighting design, which was a nice visual since Hozier didn't move around much while performing. He performed with a full band, including keyboards, a cello, drums, and back up singers. The production was extravagant, yet not over-the-top.
(
Hozier
Photo by: Emily Katz)
Hozier's deep, rich, and powerful voice sounded exactly the same live as it does recorded, which is uncommon but always refreshing. The crowd was diverse in age, and as the show went on, I realized why there was such an eclectic crowd: Some of his songs had a heavy rock sound, some blues, some country/folk, and some pop. His musicial catalog has something for all kinds of music lovers to enjoy.

After performing "Take Me to Church" at the end of the set, Hozier exited the stage only to return moments later to play a multiple-song encore. One of the songs included a cover of Beyonce's "One Thing," which was surprising but AWESOME. Honestly, there wasn't one song of his that I didn't enjoy. I made sure to buy his album after the show, and I can't wait to see him again and be able to sing along to all the songs!

I posted a short video I took last night of Hozier performing his song "Cherry Wine," and you can find it on Mix 93.3's Facebook page. His self-titled album is available on iTunes.