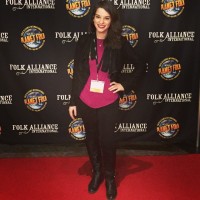 Folk music isn't my cup of tea, but I appreciate it because of my love of music in general, and how it brings people together. That said, I didn't know how I would feel prior to attending the Folk Alliance Conference Kick-Off Party last night at the Westin Hotel in Crown Center. For those of you who aren't familiar, FAC is a mini SXSW of sorts where folk musicians and industry professionals from all over the world come together to showcase their talent and network.
Last night's event kicked off the 5 day conference with not only folk acts, but performers of many different genres.
(
Hembree
Photo by: Emily Katz)
One band I made sure to catch last night was Kansas City indie/alt/rock band Hembree (http://www.facebook.com/HembreeMusic). I've been following their other musical projects over the years, and this new one might be my favorite. Though I was only able to catch a short part of their set, what I saw and heard did not disappoint. They played a stripped down acoustic set rather than their usual full band setup to appeal to the folk crowd, and their full band sound smoothly translated to acoustic. I am definitely looking forward to seeing them at Middle of the Map Fest in April! Check out their song "New Oasis" here: https://www.youtube.com/watch?v=unGUN8ziK4o.
(
Gracie Schram
Photo by: Emily Katz)
After watching Hembree for a bit, I headed across the hall to see another Kansas City artist and one of Mix 93.3's favorites, singer/songwriter Gracie Schram (http://www.facebook.com/gracieschram). If you missed her announcement yesterday morning on the Rocket & Teresa show, she is officially releasing her debut studio album I Am Me on 5.5.15! Last night, she performed a combination of familiar hits such as "Wallflower" and "We are the Change," as well as new songs that you will be able to hear on the new album. She has an awesome behind-the-music video where you can learn more about Gracie and the motives behind her music. Check it out out here: http://youtu.be/WtmIGVrPWLM
(
Kawehi
Photo by: Emily Katz)
Next up was Hawaiin native
Kawehi
(
http://www.facebook.com/iamkawehi
). Rather than performing with a full band, she takes tracks, breaks them apart, and records them into a loop machine. For example, she'll record a few seconds of her beatboxing and then a few seconds of her humming and put them together to create background music for her vocals. It was fascinating to watch the process of her creating beats and melodies and stringing them together. She has a very sweet voice (think Ingrid Michaelson meets Meiko), which sounded awesome on top of the loops. Check out a video of her using the loop machine to cover Michael Jackson's "The Way You Make Me Feel" here:
https://www.youtube.com/watch?v=naG9wtIwf_8
(
AY Musik
Photo by Emily Katz)
Celebrating multiple genres of music kicking off a folk music event, I ended the night watching a performance by Kansas City hip hop artist
AY Musik
(
http://www.facebook.com/aymusik
). A few years ago, I saw him audition for
X Factor
in front of
Britney Spears
,
Demi Lovato
, and
L.A. Reid
who were all blown away and moved him on to the next round. Since then, I've heard a lot about AY and always see pictures of massive crowds gathering to watch him perform at the Country Club Plaza and on Massachusetts Street in Lawrence, so I was excited to finally witness a longer set of his. He had a later performance slot, so I was pretty tired going into the show. As soon as he took the stage, I was wide awake. AY interacted with the crowd and performed as if he was playing in front of a sold out crowd at an arena. His passion and energy was undeniable, and the crowd people young and old fed off of his energy and joined in dancing. Check out the video for his single/Kansas City tribute "Say Hey," here:
https://www.youtube.com/watch?v=Cv-cIgKfdms
.
A couple folk/rock acts I saw and enjoyed were The Grisly Hand (http://www.facebook.com/TheGrislyHand) and John Velghe & the Prodigal Sons (http://www.facebook.com/johnvelghe).
It was an awesome experience to see so many people from all walks of life come together for the love of music. Did you attend the kick off party last night? Who were your favorites?