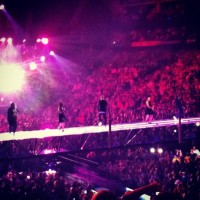 This summer, especially the last two weeks, has been full of so many awesome shows! Instead of creating a separate post for each show, I've compiled some mini-reviews and put it one post. Check it out! If you went to any of these shows, comment and let me know what you thought.
*All photos are my own.
Justin Timberlake at the Sprint Center 7/30
EVERYONE loves Justin Timberlake (proof later on…). For two hours, Timberlake wooed the all-aged audience with his timeless dance moves and incomparable and flawless voice. As someone who grew up listening to N*SYNC (though I was more of a Backstreet Boys girl…), and still genuinely enjoys Justin's solo music, I couldn't help but have a huge, cheesy grin on my face throughout the entire show. Using long, catwalk platforms that hung slightly above the audience throughout the arena, he was able to get up close and personal and connect with fans. My only disappointment? Not even a little bit of an N*SYNC song was incorporated into the set. Even though I didn't expect any N*SYNC references in the show, my inner pre-teen was slightly heartbroken. Guess I'll have to keep holding out for a reunion!
Vans Warped Tour at Cricket Wireless Amphitheater 7/31
Proof that EVERYONE loves Justin Timberlake: the next day, I wore my JT concert t-shirt to Warped Tour, and NO ONE SAID ANYTHING OR GAVE ME RUDE LOOKS. That right there proves his universal appeal. While proudly flaunting my JT shirt, I spent the day navigating through crowds and mosh pits to watch bands. Some of those bands included The Summer Set, The Story So Far, Less Than Jake, Yellowcard, Beebs & Her Money Makers, Me Like Bees, The Ready Set, and The Maine. Hands down, Yellowcard, Beebs & Her Money Makers, and Me Like Bees were my favorites. Yellowcard (pictured left) pumped up the crowd with hits like "Only One" and "Ocean Avenue," as well as some new high-energy pop/rock songs. It was so cool to see a band that hasn't had a big radio hit in a long time still draw a huge crowd. I've mentioned Beebs & Her Money Makers (pictured right) many times in my blog, because they're not only wonderful, genuine people, but one of the hardest working bands out there right now. Their Warped Tour performance was, as always, full of energy, fun, and positivity. They also let me dress up as a hot dog and dance on stage with them during their song "Crazy," so that was kind of awesome. I made a fool of myself, but had the best time doing so! Kansas City alternative/indie/rock band Me Like Bees performed their last set of their two week run on the tour, and did not disappoint. It was great to see the support from the large crowd that showed up to watch. Make sure you catch them at a show around KC sometime!
Red, White, & Boom at Starlight Theatre 8/9
Meghan Trainor
Chances are you've heard all about or were at Red, White, & Boom last weekend, so I'll keep this one extra short. It was a great day with a fantastic lineup of music, but Meghan Trainor and New Politics stole the show for me! This was Meghan's first show EVER, but you would have never guessed by watching her perform. With two backup dancers, she charmed the crowd with her unique voice and style. She immediately won over the Mix 93.3 staff upon her arrival that day by being so incredibly sweet and down-to-earth. She has a great career ahead of her! New Politics rocked the crowd with their wild energy and insanely catchy hooks. They surprised the audience with a cover of Justin Timberlake's "My Love," which they nailed. I always love when rock bands cover pop songs.

OK Go at the Riot Room 8/12
Damian and I got photo bombed by Tim and manager Andy
If seeing OK Go live isn't on your bucket list, ADD IT NOW. Tuesday night was one I will never forget. This mini review won't even begin to do it justice. OK Go are most well-known for their hit "Here It Goes Again" and its viral music video in which they dance on treadmills. In my opinion, though, they need to become more known for their innovative, creative, and just plain AMAZING live performances. The show at the Riot Room unsurprisingly sold out, but the band interacted with the audience in a way that made it feel like they were playing for a room of their closest friends. Rather than describe the show as a whole, I'll list a few of my favorite moments from the show:
Confetti cannons that were going off pretty much constantly throughout the show. I'm not exaggerating when I say I could not see the floor by the end of the night.
In between songs, the band answered questions from the audience.
At one point, while guitar strings were being replaced, singer Damian Kulash and bassist/vocalist Tim Nordwind over-dramatically reenacted a scene from Les Miserables.
They recorded the audience making various sounds (i.e. stomping, clapping, etc.), put them into loops, and used them as the backing track during their song "There's a Fire."
Damian took his acoustic guitar in the middle of the crowd to play a song, as he put it, "campfire style."
Next time they're in town (rumor has it that will be in the Spring), make sure you buy a ticket early! I PROMISE you will not be disappointed. They are, without a doubt, one of my top five favorite live acts.

Connect with the artists mentioned in this post!