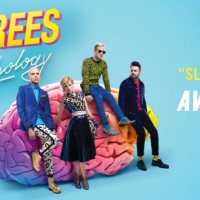 (Photo from:
http://www.facebook.com/neon.trees
)
Last Friday, I had the opportunity to see a long time favorite band of mine, Neon Trees, in Mix 93's Studio B and at KC Live! Block.
I've seen them live a few times, but never in an intimate setting like Studio B. The band, known for their hits "Animal," "Everybody Talks," and "Sleeping with a Friend," performed stripped down, acoustic versions of a few of their hits. I was impressed how they successfully turned their high energy power pop songs into slow ballads, completely changing the feel of the songs. In between songs, the band interacted with the audience, answering questions and telling stories. They were witty, sarcastic, and totally willing to open up to everyone as if they had known them forever.
(Neon Trees in Mix 93.3's Studio B. Photo by: Emily Katz)
That night, they performed at KC Live! Block for an audience of several thousand people. Opening for them was pop/rock band Nightmare and the Cat. I was underwhelmed… I've seen much worse and much better acts.
(Nightmare and the Cat. Photo by: Emily Katz)
Moving on…
Up next was an hour and a half of pure energetic, pop bliss, bright colored flashing lights, and constant dancing. Trees singer Tyler Glenn has a truly raw and unique voice that flawlessly translated to his live performance. It's rare for a singer to sound as good as or better than their recordings, but Glenn pulled it off.
(Neon Trees. Photo by: Emily Katz)
One major difference in their performance from the other times I've seen them, was Tyler's confidence on stage. At one point during the night, he acknowledged that he is happier than he has ever been since he learned to accept himself as a gay man. His acknowledgment was met with cheers of support from the audience, in which I gladly participated. His new found happiness and self acceptance radiated from him in his performance! Not that his performance seemed fake the other times I've seen him, but this time his energy was effortless. He was clearly himself and did not have to try to prove himself.
(Neon Trees. Photos by: Emily Katz)
In the pictures above, Tyler is standing in front of a giant, lit up inflatable brain. I was understandingly confused and intrigued when it was first set up, but then, to my surprise, the band covered the Pixies' "Where Is My Mind?" It's risky for any band, especially a power pop band, to cover this song, but they did not disappoint. It was refreshing to hear a different version of the song.
The band closed their set with their hit "Everybody Talks," and the audience left the show visibly (and hopefully audibly) pleased. The only disappointment I had was that they didn't play my all time favorite song of theirs, "1983," off of their first album. It's the catchiest song in the world! Oh well… maybe next time!
If you missed them this time around, make sure you catch them next time they're in town!
Were you at their show in Studio B or KC Live! Block? I want to hear your thoughts! Leave a comment below!
Twitter: @neontrees
All albums available on iTunes!