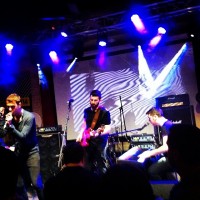 Last week, I was fortunate enough to cross an item off my bucket list: attend South By South West (SXSW) in Austin, Texas.
For those who may be unfamiliar with the event, SXSW is a music/film/interactive festival that runs a little over a week long. Througout the week, up-and-coming talent showcase in front of industry executives and fans alike. I attended the music portion of the festival.
Artists played in various venues all over downtown Austin. All of the venues were in walking distance from each other, which made it extremely convenient and easy to see multiple acts!
Of the countless number of acts I saw, here are some that I highly recommend checking out:
Cousin Marnie– Hailing from London, Cousin Marnie (Julie Ann Hartigan) won me over with her dark, mysterious, yet captivating renditions of songs from the 1930s (i.e. Flatt and Scruggs "You've Been Fooling Me Baby"). She brought a modern sound to older songs by giving them an electronic/indie sound. She released her debut EP (consisting entirely of reworked '30s songs) in the UK last year, but will be releasing self-written material next. You can listen to Cousin Marnie here: https://www.facebook.com/CousinMarnie/app_208195102528120
Longfellow– Like Cousin Marnie, Longfellow are another act from the UK, who were by far one of my favorite bands I saw at SXSW. Their sound reminds me of The Script-meets-OneRepublic, but the vocalist has a uniquely deep, rich voice that gives their music such a distinct sound. Not only did they sound great, but their stage presence was refreshingly real. They had obviously practiced, but it didn't look too rehearsed. As cliche and cheesy as it may sound, they let the music move them. Here's a video of them performing 'Medic' at SXSW: https://www.youtube.com/watch?v=0emQva6LDYk#t=23 (Be sure to listen to "Siamese Lover" as well… my favorite!).
(Longfellow: Photo by Emily Katz)
Bleachers– You may have seen my post about them on the Mix 93.3 Facebook page, but for those who didn't, Bleachers is Jack Antonoff (of Fun.)'s new project. He sings, and his voice is one of my favorites. As a longtime fan of Antonoff (Steel Train, Fun.), I was thrilled when he announced this new project (DON'T WORRY FUN., FANS! FUN. IS NOT GOING AWAY!). I was fortunate to catch two of Bleachers sets at SXSW, and they did not disappoint. In their geeky/hipster attire, the band performed a set of unreleased indie/pop/rock songs that had the crowd dancing the entire time. Bleachers played three shows at SXSW, and those were their first shows EVER. The first time I saw them was their second show, and they looked nervous, but sounded great. By the third show, it was as if they had been performing as a group for years! Check out their debut single "I Wanna Get Better" here: http://www.youtube.com/watch?v=8twpQTna_9w
(Bleachers: Photo by Emily Katz)
Ghost Beach– This electronic/pop duo was the first act I saw at SXSW, and it was definitely a great way to kick things off. They didn't let the tiny stage tame their energy. With a guitar, synthesizer, drums, and distinctive, slightly gritty vocals, Ghost Beach provided the audience with a mid-day dance party. They recently released their debut album Blonde (available on iTunes), and you can listen to tracks from it here: http://www.youtube.com/user/GhostBeachmusic (I recommend highly recommend "Miracle").
(Ghost Beach: Photo by Emily Katz)
Other acts I saw and thoroughly enjoyed are Run River North (for fans of the Lumineers), Nina Nesbitt (for fans of Taylor Swift/Lorde/powerful female vocalists in general), Wild Cub (pop/rock), Parade of Lights (electronic/pop/rock), and Ryan Montbleau (for fans of Eric Hutchinson/Matt Nathanson).
I hope you listen to and enjoy these artists as much as I do! Which ones are your favorites? Let me know!