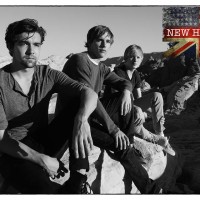 (Photo credit:
http://www.facebook.com/newhollowofficial
)
This morning I had the chance to sit in on an acoustic performance from Ohio based pop/rock band New Hollow, courtesy of the Mix 93.3 artist lounge!
The trio, made up of teens Evan, Mookie, and Chad, walked into the lounge full of energy (and jokes). They were genuiney friendly and personable, which was very refreshing.
Prior to seeing them today, I had never heard of them. Listening to them soundcheck, I was pleasantly surprised, and knew I was in for a treat. During their performance in front of Mix listeners, the band exuded passion and energy, and were very interactive with the crowd.
These guys write their own songs, which is always impressive, especially when you consider how young they are.. 18 and 19 years old!
They will be opening for Cher Lloyd tonight (3/18) at the Midland Theater. Tickets are still available here: http://www.axs.com/events/247972/cher-lloyd-tickets?skin=arvestbank.
Get connected with New Hollow: